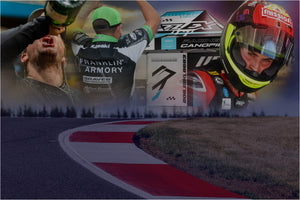 SECURE THE VISION
FULL GRAPHIC KITS
CREW SHIRTS
Canopy Tents
We have what you've been missing
Real, One-On-One Service
When it comes to action sports, racing, and the eye-catching designs, you want your equipment to stand out. FLEX Racing has the talent, drive, and personal touch you've been missing in standard racing and action sport designs. Whether you're looking for racing canopy tents, motocross and racing team apparel, or custom dirt bike, sportbike or UTV graphics, we have what you need. It is our commitment to give our clients the highest quality personalized customer service possible. From placing an order to designing your materials, a FLEX Racing rep will be with you one-on-one throughout the entire order process. By doing so, nothing will get lost in translation and you will be sure to have an very easy going experience.
Clean, Professional Designs
We give each client one-on-one, personalized service to ensure that all designs exceed their expectations. From placing an order to designing your materials, the FLEX Racing rep assigned to your order will work with you through the entire process, delivering the best one-on-one client experience imaginable. No guessing what you requested. No "lost in translation" emails. You will work directly with one of our designers, all with diverse backgrounds in a wide variety of racing and action sport disciplines. Your artist will make sure you receive competitive, modern designs that translate to a variety of products. With custom matching designs, your products will catch everyones attention!
Quality Products, Quality Pricing
Look, we come from racing, we understand the challenges that come with having a professional pit setup. It is extremely hard to find what you need while also staying within a realistic and justifiable budget. You will notice that our prices are competitive, but so are our products. We build our materials to last, no need for replacements each year. We know what's important to you. We manage our ordering and design processes with your needs in mind and understand the challenges you face when establishing a professionally branded pit setup. High-quality products that meet your budget and exceed your expectations—that's what you can expect when you partner with FLEX Racing!
Need a new canopy? Get started here
a word from our clients
"Most amazing people I've ever met from start to finish , every aspect was done perfectly till I was happy and is HANDS DOWN THE BEST"

Rick Craig
"For the quality and design the price is unmatched!!! From top level racers, to track day enthusiasts, these guys really have their stuff together!!!"

C.J. Cohen
"Flex is like a much needed breath of fresh air. From design to delivery, they do an absolutely great job. We had about 40 pit shirts made and they turned out amazing."

Matt Cooper
"The timely responses, professional communication, and impeccable attention to detail makes for some very good products that stand out above the rest."

Brandon Hope
"We got 5 tents in various sizes and they all are impressive as far as quality and design goes. Over all we couldn't be happier, our team will be a customer for life. Thanks"

Matt Cooper
save time and money
We will not flood your inbox. We use this for announcements, promotions, new products and sales. Let's FLEX on 'em!